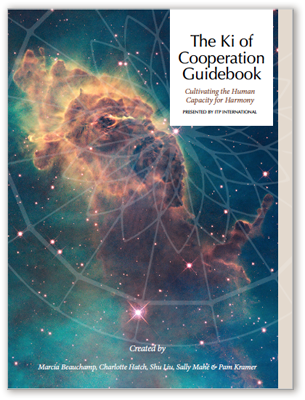 ---
Engage in the transformative power of cooperation
Elevate your ability to collaborate across boundaries through The Ki of Cooperation—an immersive practice and nurturing community. 
In today's tumultuous landscape, cooperation stands as the linchpin for solving our society's challenges. Like a gentle rain on arid soil, the infusion of cooperation douses the flames of confrontation, paving the way for a renaissance of civility.
Deeply Anchored in Wisdom
Rooted in Integral Transformative Practice® (ITP), pioneered by human potential visionaries George Leonard and Michael Murphy, The Ki of Cooperation also draws from the wisdom of Non-Violent Communication and Appreciative Inquiry.
Main Principles
This practice rests on three main principles:
Cooperation is an inside job: Nurturing the skill, resilience, and practice essential for successful global collaboration.
Ki—the Vital Flow: Embracing the concept of Ki, the energy flow central to personal and societal evolution.
The Integral: Engaging body, mind, heart, and soul, unlocking underlying wholeness.
Cultivating Harmony, Together
We believe in the power of a Community of Practice—a collective committed to mastering cooperative prowess. Through our vibrant online Community House, members share stories, explore concepts, and apply cooperative practices globally. Experience mutual support through posts, direct messages, events, and live streams—24/7, across borders.
Engage in the Mastery of Cooperation
Discover The Ki of Cooperation Training Program—a journey to enhance your collaborative skills. Develop confident self-expression, enhance listening skills, embrace diverse perspectives and cultivate inclusive, fulfilling relationships. Experience creativity, resilience, and balance under pressure.
Join the upcoming Ki of Cooperation Training Program and be part of an evolution towards harmonious collaboration.
Together, let's redefine cooperation's potential and create a world thriving on shared understanding and peace.